((now this idea sounds just great to me--alexis))
Watch Video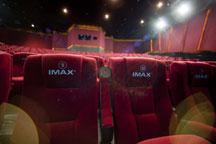 Play Video
By CCTV reporter Sanyee Yuan
If you're the type of person that would rather stay at home and watch movies, listen up. Giant theater screen innovator, IMAX, has joined forces with China's TCL to make movie watching at home an even greater experience. The technology is a few years away, but a new affordable theater system may be just like having an IMAX screen at home.
IMAX has partnered with Chinese electronics giant TCL Multimedia Technology to develop and produce an affordable home theater system worldwide. The new home theater systems will roll out in 2015 and its first landing market is in China.
"The numbers in the theater space have just been tremendous in China. So we felt that that popularity in that brand recognition could move over from the theater space to the n-home space and especially this market is really people who don't go to the movies that much. So we think it's complementary to the theater space so the theater space is going to be our main revenue driver in China doing both Chinese films and US films and then I think for really high-end consumers who don't go to movies, this will supplement that."
said Richard Gelfond, IMAX CEO.
Earlier this year, TCL first made a bold move by purchasing the naming rights to the historic Chinese Theater for 5 million dollars. Li Dongsheng, the chairman and chief executive of TCL, told us home entertainment is a trend as the demand for content viewing is constantly increasing.
"The system has the same technology the IMAX has currently in commercial theaters. The home entertainment system will be more compact and customized for individuals and families. The overall visual experience will be very close to what you see in big theaters. As for content, we will develop a line of products to fit most people's needs."
Said Li Dongsheng, TCL Chairman.
This 4K, fully integrated home theater system will complement its high-end home theater with a daily update on content. And that is an ambitious offer.
"Customer service will be a big challenge for us to develop, because the IMAX home system will require a team of specialists who know how to fix problems when our users experience any situation."
said Li Dongsheng, TCL Chairman.
As consumer demand grows for high-end entertainment, this TCL IMAX merge seems to be a perfect fit. We will see it in 2015.
http://english.cntv.cn/program/cultureexpress/20131031/