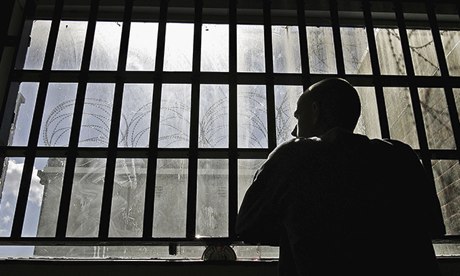 65% of the prisoners identified nationwide by the ACLU are African American. In Louisiana, that proportion rises to 91%. Photograph: Peter Macdiarmid/Getty Images
At about 12.40pm on 2 January 1996, Timothy Jackson took a jacket from the Maison Blanche department store in New Orleans, draped it over his arm, and walked out of the store without paying for it. When he was accosted by a security guard, Jackson said: "I just needed another jacket, man."
A few months later Jackson was convicted of shoplifting and sent to Angola prison in Louisiana. That was 16 years ago. Today he is still incarcerated in Angola, and will stay there for the rest of his natural life having been condemned to die in jail. All for the theft of a jacket, worth $159.
Jackson, 53, is one of 3,281 prisoners in America serving life sentences with no chance of parole for non-violent crimes. Some, like him, were given the most extreme punishment short of execution for shoplifting; one was condemned to die in prison for siphoning petrol from a truck; another for stealing tools from a tool shed; yet another for attempting to cash a stolen cheque.
"It has been very hard for me," Jackson wrote to the American Civil Liberties Union (ACLU) as part of its new report on life without parole for non-violent offenders. "I know that for my crime I had to do some time, but a life sentence for a jacket value at $159. I have met people here whose crimes are a lot badder with way less time."
Senior officials at Angola prison refused to allow the Guardian to speak to Jackson, on grounds that it might upset his victims – even though his crime was victim-less. But his sister Loretta Lumar did speak to the Guardian. She said that the last time she talked by phone with her brother he had expressed despair. "He told me, 'Sister, this has really broke my back. I'm ready to come out.'"
Lumar said that she found her brother's sentence incomprehensible. "This doesn't make sense to me. I know people who have killed people, and they get a lesser sentence. That doesn't make sense to me right there. You can take a life and get 15 or 16 years. He takes a jacket worth $159 and will stay in jail forever. He didn't kill the jacket!"
The ACLU's report, A Living Death, chronicles the thousands of lives ruined and families destroyed by the modern phenomenon of sentencing people to die behind bars for non-violent offences. It notes that contrary to the expectation that such a harsh penalty would be meted out only to the most serious offenders, people have been caught in this brutal trap for sometimes the most petty causes.
Ronald Washington, 48, is also serving life without parole in Angola, in his case for shoplifting two Michael Jordan jerseys from a Foot Action sportswear store in Shreveport, Louisiana, in 2004. Washington insisted at trial that the jerseys were reduced in a sale to $45 each – which meant that their combined value was below the $100 needed to classify the theft as a felony; the prosecution disagreed, claiming they were on sale for $60 each, thus surpassing the $100 felony minimum and opening him up to a sentence of life without parole.
"I felt as though somebody had just taken the life out of my body," Washington wrote to the ACLU about the moment he learnt his fate. "I seriously felt rejected, neglected, stabbed right through my heart."
He added: "It's a very lonely world, seems that nobody cares. You're never ever returning back into society. And whatever you had or established, its now useless, because you're being buried alive at slow pace."
Louisiana, where both Washington and Jackson are held, is one of nine states where prisoners are serving life without parole sentences for non-violent offences (other states with high numbers are Alabama, Florida, Mississippi, Oklahoma and South Carolina). An overwhelming proportion of those sentences – as many as 98% in Louisiana – were mandatory: in other words judges had no discretion but to impose the swingeing penalties.
The warden of Angola prison, Burl Cain, has spoken out in forthright terms against a system that mandates punishment without any chance of rehabilitation. He told the ACLU: "It's ridiculous, because the name of our business is 'corrections' – to correct deviant behaviour. If I'm a successful warden and I do my job and we correct the deviant behaviour, then we should have a parole hearing. I need to keep predators in these big old prisons, not dying old men."
The toll is not confined to the state level: most of those non-violent inmates held on life without parole sentences were given their punishments by the federal government. More than 2,000 of the 3,281 individuals tracked down on these sentences by the ACLU are being held in the federal system. Overall, the ACLU has calculated that taxpayers pay an additional $1.8bn to keep the prisoners locked up for the rest of their lives.